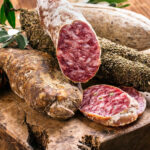 Smoked Italian Cacciatore Salami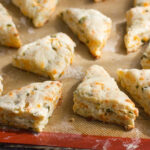 Smoked cheddar and jalapeno scones recipe
This smoked New Zealand Lamb Leg Recipe is the result of a lot of research and also one of the best.
INGREDIENTS
lamb leg
ten gloves of chopped garlic
one quarter of a cup with soy sauce
one cup of pomegranate or apple cider
three tablespoons of sea salt
a few shakes of ground pepper
chopped onions, milk and corn starch according to the wanted sauce quantity
DIRECTIONS
Mix the marinade ingredients together and rub it into the leg of lamb.
Use a baster to get the marinade into the cavities, but don't cut the string holding the roast together.
Place the lamb in a ziplock bag, or equivalent, pour in the rest of the marinade and throw it in the fridge at least overnight.
The next day, preheat the smoker to about 93°C, and put in 2 hours of pecan and 1 hour of apple bisquettes.
Smoke the lamb until the internal temperature is 60°C (about 3 – 3,5 hours).
Put the lamb on the second rack space from the top, and put the pan 2 rack spaces down.
When the temperature hits 60°C, take the lamb out and dutifully wrap it in foil, then a towel, and put it in a cooler.
Take the drippings from the pan in the smoker and put them in a saucepan.
Add chopped onions, cook until they are soft, add a bit of milk with corn starch in it to make a gravy.
Serve the lamb with the sauce. A real delight!
SOURCE: https://www.bradleysmoker.com/recipe/smoked-new-zealand-leg-of-lamb-recipe/