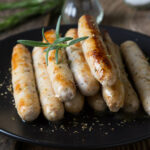 Smoked Herbed Turkey Sausages
Get ready to level up your risotto game with this irresistible smoked risotto recipe.
INGREDIENTS
RISOTTO:
3 Tbsp olive oil
1 Cup Smoked Arborio Rice
2 Tbsp smoked garlic, chopped
½ Cup + ¼ cup white wine
4 Cups chicken stock
1 Cup smoked onions, sliced
1 Cup smoked plum tomatoes, chopped
1 Cup smoked sweet red peppers, chopped
¼ Cup smoked hot chilli peppers, chopped
Salt and freshly ground black pepper, to taste
½ Cup mascarpone cheese
Fresh rosemary leaves, torn
¼ Cup parmesan cheese, grated or shaved
1 Lemon, halved
SMOKED ARBORIO RICE:
4 Cups Arborio rice
2 Tbsp fresh rosemary leaves
SMOKING ONIONS, GARLIC, PEPPERS & TOMATOES:
2 Large white onions, cut in half, each half-quartered (wedges)
24 Plump cloves garlic, peeled
4 Sweet red peppers (shepherd or bell)
4-8 Hot red chilli peppers
8 Plum tomatoes, quartered
Kosher salt, to taste
Smoke Temperature: 93ºC
Bisquette Flavor: Maple or Hickory or Oak or Apple
Smoker Time: 4 to 6 hours
4 Bradley Smoker Racks
Aluminum foil
1 Large pot
1 Mason jar
DIRECTIONS
Take a rack and wrap it tightly with aluminum foil. Using the needle from an injection syringe or something fine, poke lots of little holes through the foil to allow for smoke penetration. But not too big because the rice will fall through the holes. You can use a foil pan if you wish, but I have found that the more spread out you can have the rice on the rack, the better smoke penetration you will get.
In a large bowl, combine the rice and torn rosemary leaves. Pour the mixture onto the foil pan and spread evenly across the foil. Place into smoker and smoke for approximately 6 hours, or until the rice starts to turn bronze in colour (the only real noticeable change to the rice). Be sure to stir the rice gently every hour, as this will allow for a more even smoke on the rice. It's important to keep your humidity level at a minimum, as you want a dry smoke so that the rice does not absorb moisture.
Remove rice from the smoker and allow it to fully cool. Once cooled, vacuum pack the rice or store it in a mason jar for at least 24 hours before use. An unopened jar of smoked rice will keep for up to 6 months, so feel free to make the rice ahead of time.
Place the onion wedges, garlic, red peppers, hot chilli peppers and plum tomatoes onto Racks, evenly spaced. Season to taste with kosher salt. Place into smoker and smoke on medium-high, about 82-93ºC, for approximately 3-4 hours, or until the vegetables are tender and golden brown. Remove from smoker and set aside to cool. Makes a variety of smoked vegetables.
In a heavy-bottomed pan, warm the olive oil over medium to medium-high heat. Add the Smoked Arborio Rice and allow the rice to lightly toast in the oil for approximately one minute, stirring continuously. Add garlic and then add in white wine, stirring constantly. Slowly add chicken stock, ½ cup at a time, as the rice cooks and absorb the liquid. When it gets thick add more liquid. This will take approximately 20 minutes.
When the rice is just about done, add in the smoked onion, tomatoes, sweet and hot peppers. Stir well. Add the remaining ¼ cup of wine and a pinch of salt & pepper. Add mascarpone cheese and stir it in until it is incorporated. Add torn rosemary leaves and Parmesan cheese. Stir well. Continue to cook.
While the risotto is cooking, place lemon half on the grill, skin side down, to grill slightly.
To serve, place risotto in bowls and top with a squeeze of grilled lemon and a few rosemary leaves. Garnish with extra Parmesan cheese and serve immediately.