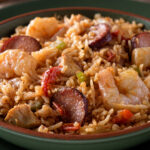 Smoked creole prawns with rice and sausages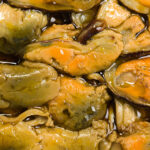 Alder Smoked Mussels
Very quick and easy, this Smoked Herb and Garlic Shrimp recipe will be ready in less than one hour. Use Bradley flavor bisquettes of choice. Alder, apple, and Pacific blend all work great.
INGREDIENTS
450g of fresh shrimp, peeled and deveined
one tablespoon of oil
one tablespoon of dried oregano
one tablespoon of dried basil
one teaspoon of garlic powder
one teaspoon of salt
DIRECTIONS
In a large bowl, toss the shrimp with oil, oregano, basil, garlic powder, and salt. Place the shrimp on smoker racks.
Set the smoker to 107°C using Bradley Flavor Bisquettes of choice.
Smoke the shrimps until they turn pink (around 30-45 minutes).
Serve right away.
SOURCE: https://www.bradleysmoker.com/recipe/smoked-herb-garlic-shrimp/