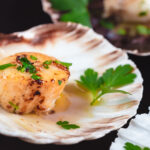 Smoked Scallop Martini Appetizer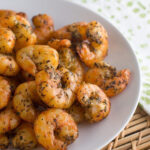 Smoked Herb and Garlic Shrimp
Perfect recipe of prawns with smoked sausages and brown rice. It will totally blow your mind!
INGREDIENTS
16 large prawns
250g of brown rice
two/four smoked sausages
six cloves of garlic
four shallots
one quarter of a cup with fresh oregano leaves
two tablespoons of fresh thyme leaves
125g unsalted butter
one tablespoon of Worcestershire sauce
half teaspoon of salt
one quarter of teaspoon of ground black pepper
one quarter of teaspoon of ground white pepper
one teaspoon of cayenne pepper
two quartered lemons
DIRECTIONS
Using a small pair of sharp scissors cut along the top of the prawns.
Using a small, sharp knife cut into the vein along the top of the prawn and rinse it away.
Put the garlic, shallots, oregano, thyme, butter, Worcestershire sauce, salt and peppers together in a food processor and blend into a paste.
In each of the prawns, place some of the paste between the shell and the prawn.
Preheat the Bradley Smoker to around 100°C.
Using Alder flavor bisquettes smoke/cook the prawns for approximately 40 to 60 minutes or until done.
On a stove, boil rice, but not too much, try to keep it almost hard (not to absorb a lot of water, otherwise they become pilaf).
Inside a pan, stir fry the sausages until the fat melts, then add rice and shrimps.
Cook over low heat to a preferred consistency, you can also add to your taste some of the paste you made earlier.
Serve accompanied with lemon wedges.
SOURCE: https://www.bradleysmoker.com/recipe/smoked-creole-prawns/