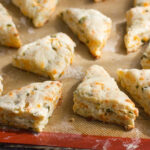 Smoked cheddar and jalapeno scones recipe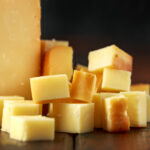 Smoked Cheddar Cheese Cubes
An easy to make and absolutely delicious recipe. For those of you who make yourself a grilled cheese sandwich on a regular basis, you'll love this new recipe. It is simple to make, and that makes it even more enjoyable on those busy work days! It's also great during fresh blueberry season, if it's too warm to spend a long time over the stove.
INGREDIENTS
2 slices of bread (sourdough)
a good amount of your favorite smoked cheese (smoked cheddar)
half cup of blueberries
one tablespoon of balsamic vinegar
half tablespoon of brown sugar
half tablespoon of butter
DIRECTIONS
Combine blueberries, sugar and vinegar in a small pot and bring to a boil.
Boil for about 5 minutes.
Strain mixture and reserve berries.
Spread blueberries onto bottom slice of bread and top with cheese; top with remaining slice of bread.
Butter outsides of bread and grill on preheated pan.
SOURCE: https://www.bradleysmoker.com/recipe/blueberry-smoked-grilled-cheese/