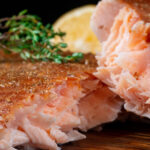 Bradley's Famous Hot Smoked Salmon Recipe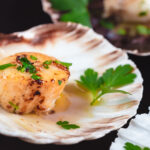 Smoked Scallop Martini Appetizer
This recipe is about getting yourself some sticky fingers while eating and handling heavenly ribs. It's always about the experience, the better the taste the more you'll crave for this experience. Let's get started!
INGREDIENTS
1,5kg pork side spareribs
one cup of ketchup
half cup of brown sugar
one third of a cup of vinegar
two tablespoons of Worcestershire sauce
one medium onion, finely chopped
one garlic clove, finely chopped
half teaspoon of hot chilly powder
DIRECTIONS
Precook spareribs on rack over a baking sheet at 180°C for one hour. Prepare sauce by combining all sweet and sour ingredients in a saucepan. Bring to a boil, then reduce heat and simmer to desired consistency.
Preheat the food smoker to approximately 90°C. Remove spareribs from oven and place on an oiled smoker rack. Brush both sides of spareribs liberally with the sweet and sour sauce.
Using Hickory flavor bisquettes smoke/cook for 2,5 to 3 hours or until done. Remove occasionally to grease with the sweet and sour sauce.
Cooking time will vary, depending upon weather and wind conditions. Meat should be tender and pull easily away from bones when ready to serve.
Heat the remaining sauce and serve as a bath for ribs. Add bread and salad. Make sure you have enough napkins!
SOURCE: https://www.bradleysmoker.com/recipe/pork-side-spareribs/