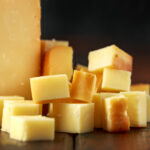 Smoked Cheddar Cheese Cubes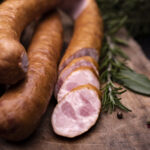 Smoked Polish Sausage
This is a Burger that's unusual and great. It has a surprising twist. NO Ketchup or Mustard. From there it's up to you. You can either grill or smoke the burger. I prefer to smoke at 200° for about 20 min then hit the grill until done. You can also try Blue Cheese Dressing but it just doesn't have that bite that Roquefort throws at you. You should make your own dressing because good chunky Roquefort Dressing is just hard to find.
INGREDIENTS
minced seasoned primal cuts of beef, keep the fat, it gives a better flavor
sesame seed burger bun
Roquefort Dressing
DIRECTIONS
Make burgers about 1,5 - 2cm thick and big enough to completely cover a large sesame seed burger bun. Add salt and pepper according to your taste. They'll end up weighing about 350g each.
Place in a 95°C preheated smoker, and apply 20 minutes of smoke. Then remove from smoker and finish cooking them on the grill. Check the bisquettes guide for a smoking flavor.
Toast bun lightly and spread good Roquefort Dressing on both insides of bun.
Top with burger, onion, pickle and whatever strikes your fancy, lettuce, tomato, bacon.
SOURCE: https://www.bradleysmoker.com/recipe/roquefort-steer-burger/