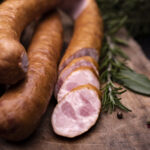 Smoked Polish Sausage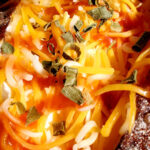 Smoked Potatoes with Cheese
This is a delicious way to use those smoked breakfast sausages. It's a simple and quick recipe that makes a hearty breakfast or brunch.
INGREDIENTS
two tablespoons of oil
one diced onion
one diced green pepper
two minced garlic cloves
750g of frozen hash browns
450g of smoked breakfast sausages, cut into 1,5cm pieces
half tablespoon of cayenne pepper
salt and pepper to taste
6-8 eggs
DIRECTIONS
Heat oil in a skillet on medium heat. Add onion, green pepper and garlic. Cook until they are tender, about 5 minutes.
Add the frozen hash browns. Cook for about 10-15 minutes, so that the hash browns cook through, and start to crisp up on the outside. Stir often, scraping the bottom of the skillet.
Stir in the smoked breakfast sausages, cayenne, salt and pepper. Cook for another 7-10 minutes, stirring often.
In another skillet, fry the eggs sunny side up.
Scoop some of the hash onto a plate. Place one or two eggs on top of the hash.
Serve hot.
SOURCE: https://www.bradleysmoker.com/recipe/smoked-breakfast-sausage-hash/