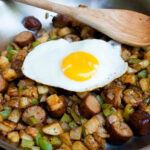 Smoked Breakfast Sausage Hash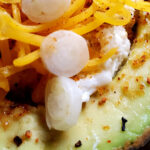 Smoked Stuffed Avocado
If you're looking for an easy side dish to make for your family and friends, look no further. Smoked Potatoes taste like no other potatoes out there. I use this simple recipe to impress my family when we are in the mood for potatoes.
INGREDIENTS
6 red potatoes
five tablespoons of olive oil
two tablespoons of sea salt
six tablespoons of butter
six tablespoons of sour cream
six tablespoons of shredded cheddar
one tablespoon of chive
DIRECTIONS
Preheat your smoker to 110°C and set the wood to smoke for 2 hours, use mesquite wood bisquettes.
Clean off your potatoes under water and dry them off.
Poke holes into your potatoes using a fork on each side so the potato does not explode in your smoker.
Coat each potato with olive oil on the skin (this will help the potatoes retain moisture).
Sprinkle each potato skin with sea salt (some will fall off and that's okay).
It's time to smoke! Place the potatoes inside your food smoker and cook for 2 hours or until you can easily pierce with a fork.
Add your toppings of your choosing. Use the butter, sour cream, shredded cheese, homemade BBQ sauce, and chopped chives. Place back in the smoker for 5 minutes or until the cheese is melted.
Enjoy!
SOURCE: https://www.bradleysmoker.com/recipe/smoked-potatoes-recipe/