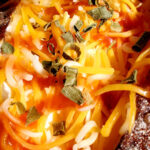 Smoked Potatoes with Cheese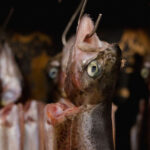 Smoked Rainbow Trout
This recipe is recommended for every family gathering, a favorite for everyone and a must-have on your table.
INGREDIENTS
4-6 avocados
five green onions
four tablespoons of shredded cheddar cheese
half a block of cream cheese
1/3 cup breadcrumbs
one tablespoon of Bone Suckin' Sauce Vegetable Seasoning (Brown Sugar, Salt, Chili Pepper, Sugar, Paprika, Dehydrated Onion, Garlic, Bell Pepper, Mustard Seed, Celery Seed)
DIRECTIONS
Set smoker for one hour of smoking and cooking at 110°C with mesquite bisquittes.
Rinse avocados under cold water and cut them in half.
Take out the seed in the avocado (be careful if you choose to use any sharp object).
In a mixing bowl add cream cheese and bread crumbs. Blend together for about 15 seconds.
Fill each avocado hole with one tablespoon of cream cheese mixture and sprinkle cheddar cheese on top.
Rinse green onions under cold water and chop the bulb into thin slices. Tip: You can chop the green stem and add it on top for extra flavor. Sprinkle a couple o slices on top of the avocadoes evenly.
Top each avocado with the seasoning.
Smoke and cook then serve immediately!
SOURCE: https://www.bradleysmoker.com/recipe/smoky-stuffed-avocados/